The Importance of having Thermometer
It is highly recommended that every household with babies or children to have at least one functioning thermometer. In fact, it is one of the essential baby accessories especially for infants, as their immune system has not fully developed and more vulnerable to sickness.
It is advisable for parents to monitor their child's body temperature regularly. If the temperature of the baby increases to 38 degrees, it might lead to "Febrile seizures". This is most common occur to babies and young children between the age of 6 months to 5 years. A child with this type of seizures may drool, vomit, and roll his eyes. His body might jerk or twitch, and his limbs may become stiff. It might be harmless in most cases, but it may be quite terrifying to see your baby experiencing one. When a baby is having a high fever, a proper action need to be taken since it may resulted in other serious condition such as affecting eye sight.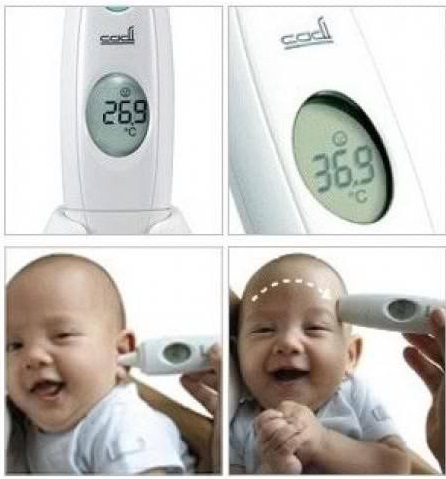 There are some factors which you need to consider if you are to purchase a thermometer. The most deciding factor is that you need one that is reliable, easy to use and fool proof. Many times you will wake up in the night, half asleep, and having anything complicated might freak you out.
One recommended thermometer is CADI T560 Infrared Ear and Forehead Thermometer. It is precise, ergonomically designed, and able to measure temperatures in two convenient ways, via fast ear or gentle forehead scan. Employing the latest infrared technology packaged in an easy to use manner, CADI T560 is an elegantly designed clinical thermometer meant for your family. You can purchase this high quality infrared thermometer from Baby Shop SG at only $50!
Follow Baby Shop SG on Twitter and like our Facebook Page for regular updates on news and article related to babies and parenthood (including offer on Baby Products Singapore)!