Tips for Flying with Infant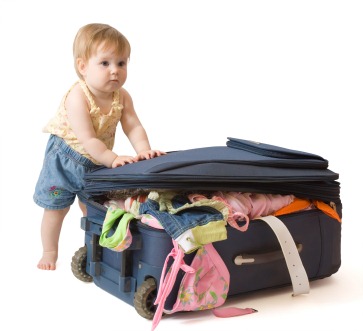 Planning to bring your little ones for a trip in the upcoming holiday? Or simply to visit friends and relatives? Baby Shop SG has prepared a guide to help you in achieving a smooth journey, especially on the airplane.
What is the recommended age for baby to travel with airplane?
It is best to avoid traveling for baby below 2 weeks old. Their body still requires time to adapt fully with the new environment, considering they just came out from the comfort zone inside the mother's womb. At such a young age, they can be easily infected especially when they are confined in an airplane for a long period. 3-months old and above is the recommended age for baby to travel with airplane. Once they hit 3-months, baby's physiological growth and development has reached the optimum level, where they can better handle change in temperature.
1. Pre-departure
Choose flight time which suits baby routine, e.g. night flight for long haul trip, nap time for short haul trip; with the aim of having them sleep soundly or at least not cranky especially during take-off.
Indicate in the booking that you are traveling with baby so that Airline Crew will prepare additional seat belt for baby and allocate seat with more legroom. Sitting at the front row of the cabin also minimise the noise generated from the machine. Parents should also request for aisle seat to ease movement if we need to bring baby to toilet or even just to calm our baby (of course not during take off or landing time ;)). Please note that parents traveling with babies are not allowed to sit next to Emergency Exit door.
Should I buy separate ticket for my infant?
When baby hits 2 year old, we are required to book individual seat for baby. However, Baby Shop SG recommends parents to book individual seat for baby once they are able to sit firmly or even sleep in sitting position. Reason being is putting baby on our lap during even moderate turbulence or drastic change in air pressure may injure the child; parents may not be able to maintain a grip on baby.
While allowing baby to sit by themselves, it is safer to secure them in a car seat strapped into the airline seat. Please check the label to ensure that the car seat is approved for airline travel. The Federal Aviation Administration (FAA) recommends that all children below 40 pounds be secured in approved safety seats.
Where should I put my stroller? Should I check it in or hand carry will do?
Kindly check the regulation on traveling with stroller. Some airlines allow you to bring the stroller to the cabin (you can ask cabin crew to keep it for you), but some requires the stroller to be checked-in together with the luggage.
Check your baby's health status 3-7 days before departure date. If baby just recovers from some sickness, e.g. flu, ear infection etc, normally doctor will prescribe some medicine to lessen the pain. Also, it is advisable to get a letter from doctor to certify that the baby is fit to travel with airplane.
Guideline in bringing baby food on-board
According to CAAS regulation, baby foods such as milk, juice and porridge will be exempted from the 100 ml restrictions, provided that the baby is travelling with the adult. However, please prepare in the reasonable quantity to meet the baby's need throughout the flight.
If you are feeding baby with formula, there is no restriction on the amount of milk powder to be brought on board since it is not considered as liquids, aerosols and gels item. You are allowed to carry hot water in a flask or you can also request from the airline crew.
If the baby food is in containers with maximum capacity below 100 ml, parents are advised to place the containers inside the 1-litre transparent re-sealable bag. Else, it will be subjected to further checks at the security screening point. During this check, baby must be present and the security officer may ask parents to taste the baby food.
2. At the Airport
Whenever possible, try to reach the airport earlier so that you have ample time to check-in, go through immigration process and security check. Find seats around "No Smoking" area while waiting. Play with baby so that they will be tired and easily sleep inside the plane.
If you are travelling only with your baby (e.g. without spouse), carry backpack is more practical so that your both hands can be free to take care of baby. Don't carry too heavy of a bag because you still need to carry the weight of the baby. The baby essential things to carry are changing clothes, diapers, baby wipes, blanket, milk and food.
3. On-board the plane
Feed baby or allow baby to suck pacifier when plane is about to take off and landing. This will help to minimise the ear pain experienced due to change in air pressure. This swallowing motion is useful to balance the difference air pressure inside the ear.
You can also prepare Expressed Breast Milk (EBM) in a bottle beforehand. Although FAA only allows carrying 100 ml of liquid into the plane, it does not apply to baby's milk and food, medicine and special diet. If your baby is drinking formula milk, you can get hot water from the cabin crew to prepare the milk.
If the flight is not fully occupied, feel free to ask permission from cabin crew to sit at row with less people, cabin crew will be more than happy to accommodate to your request.
Dress your baby with jacket/sweater, socks and mittens, and hat because temperature inside the cabin is quite cold even for adults. Where necessary, you can request for extra blanket or pillow.
Make sure your baby is well-hydrated, either milk or water (for baby more than 1 year old) because the air inside the cabin is considerably dry.
If the baby is not sleeping, playing with them or story telling will also help. Carry them to walk around the aisle while gently pat their back can help to make them relax and reduce the boredom too.
Hopefully this article will benefit you in one way or another, enjoy your trip!
Follow Baby Shop SG on Twitter and like our Facebook Page for regular updates on news and article related to babies and parenthood (including offer on Baby Products Singapore)!