Video tributes to Lee Kuan Yew
March 23rd, 2015. 03.18am. Singapore, or rather The world, lost one of the great leader. Most people even say this particular person "Giant Leader".
Lee Kuan Yew
That is his name. Singapore's father. He brought up Singapore from third world country to a first world country.
Management of Baby Shop SG wish to express our deepest condolences to his family and also to Singapore
Baby Shop SG compiles these videos as a tribute to him, as a form of our deepest gratitude of what he has done to Singapore. Without him, we won't be where we are today.
Note: If you know any video which is worth sharing, feel free to contact us here, and we will consider to upload it here
1. PM Lee, addressing the nation about Passing of Lee Kuan Yew
2. New Zealand MPs Pay Tribute to Lee Kuan Yew
Not many country will pay tribute to Lee Kuan Yew in their parliament. New Zealand is one of that country. Respect.
For those of you who wants to pay final tribute to Mr LKY, his body is lying in state parliament until 29th March. We strongly encourage you to pay a visit. LTA has been working with Transport Operator to let the public transport (MRT) operates for 24 hours to facilitate this. Alternatively, you can also visit any 1 out of 18 other place set up by the government.
To close this post, we would like to share our favourite quote which shows Lee Kuan Yew's love and concern towards Singapore: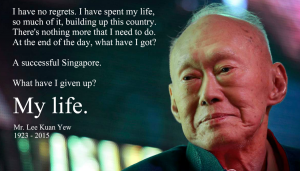 With Deepest Condolences,
Management of Baby Shop SG
Follow Baby Shop SG on Twitter and like our Facebook Page for regular updates on news and article related to babies and parenthood (including offer on Baby Products Singapore)!