Opening of Coney Island Park
Resident in the eastern coast of Singapore, especially nature-lover, will be pleased to know that Coney Island Park, the newest nature destination in the Republic, is now open.
The 50-ha Coney Island is located off the north-eastern coast of Singapore, near Punggol. It was officially opened by Coordinating Minister for Infrastructure Khaw Boon Wan on Saturday (10th October 2015) morning.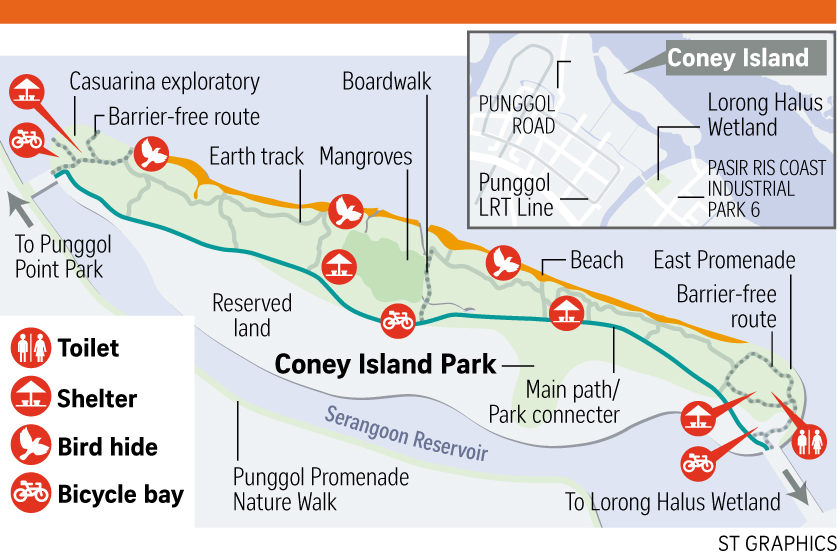 The island can be accessed via two bridges that link its western and eastern ends to Punggol Promenade (by public bus) and Pasir Ris Coast Industrial Park 6 (by driving) respectively.
The rustic park, which is managed by the National Parks Board (NParks), will allow Singaporeans to encounter a wide variety of biodiversity, including nationally threatened species such as the spotted wood owl and rusty-breasted cuckoo.
If you are lucky, you might even come across the single Brahman bull roaming freely across the island. The timid and gentle animal was found in poor condition when the island was being re-developed.
The island is also known as Pulau Serangoon, mostly covered with lush vegetation, which NParks has tried to preserve. For example, NParks have intentionally left the island's five beaches uncleared, and greenery allowed to grow in its natural environment.
Other environmental initiatives are also in place to nurture the biodiversity on the island, which is a stop for migratory birds like the blue-throated bee-eater. One habitat enhancement measure, for instance, involves the installation of nest boxes to increase the availability of suitable nesting sites for birds around the island.
Follow Baby Shop SG on Twitter and like our Facebook Page for regular updates on news and article related to babies and parenthood (including offer on Baby Products Singapore)!