Revised Maximum Cash Rebate at Bank of China Shop Card
Bank of China Shop! Card is considered one of the best card in Singapore to do online transaction as they offer up to 6% rebate. 1% cash rebate is awarded for total amount billed in the monthly statement above S$1,000 and 0.5% cash rebate for total amount S$1,000 and below. Additional 5% cash rebate will be awarded on online transactions and/or selected departmental stores, subject to a monthly minimum spend of S$500 and maximum spend of S$1,000.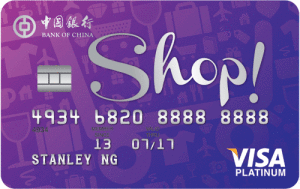 However, from 1 January 2016 to 31 March 2016, the maximum spend to be awarded 5% cash rebate will be reduced from S$1,000 to S$600. This would means, any online spending above S$600 will only be awarded 0.5% or 1%, depending on the total amount spending.
More details will only be available at Bank of China website next year.
Follow Baby Shop SG on Twitter and like our Facebook Page for regular updates on news and article related to babies and parenthood (including offer on Baby Products Singapore)!